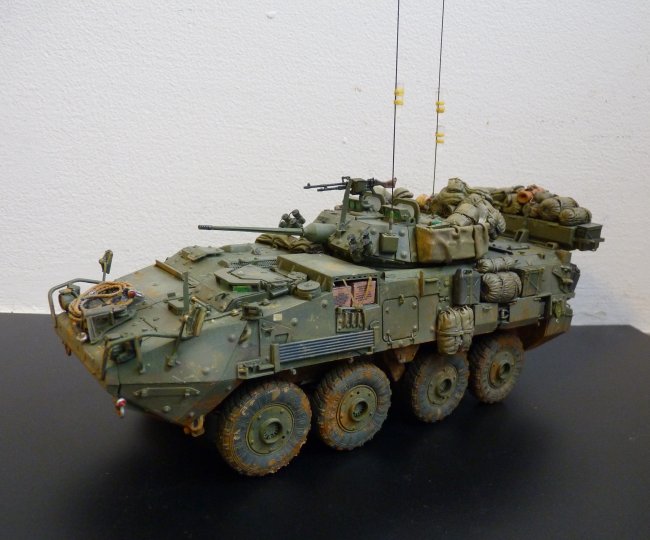 Here is my Trumpeter Canadian Army LAV-III in 1/35 scale, depicting a vehicle deployed to Afghanistan. The LAV-III is a Canadian Army Light Armored Vehicle based on the Stryker platform, adding a turret and Bushmaster M242 25mm auto-canon. In this case I think the "Light" in Light Armored Vehicle is a misnomer as these are pretty much the same size as a WW2 german Panther Tank. I am relatively new to armor models, this being only my third such model after building mainly cars and aircraft for 22 years.
To further accent this model and to add a little more life to it, I added Black Dogs LAV-III stowage set which includes a ton of resin gear, everything from canvas covered turret baskets, to ruck sacs, bundled cots, rolled mats, tarps, heavy tow cable, clear resin water bottles, and nicely bundled gear to top off the bustle rack. Being fairly new to armor modeling, I tried to keep my weathering a bit on the light to medium scale, using post shading, oil washes and pigments. I managed to get the look I was after nicely but I wish now I had used a lighter shade of pigments for the dried mud, looks more like its been mudding thru the training range at CFB Gagetown instead of the gravel and dirt roads in Afganistan.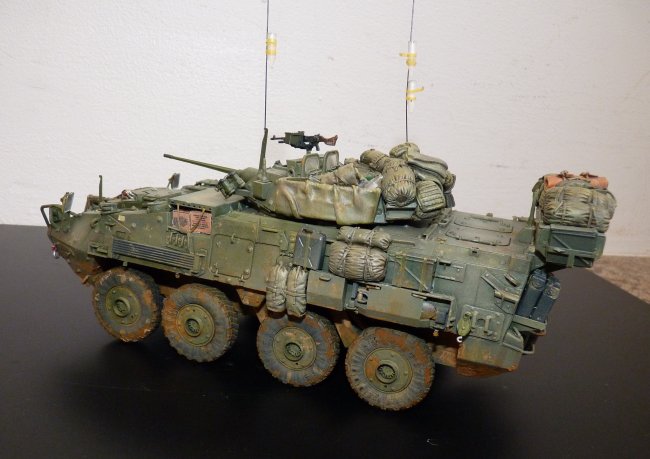 Overall, I am very happy with how my LAV turned out. Looking forward to building some other Stryker variants and other modern and WW2 armor.

"Charlie 'Cheetah' Arsenault"