1/35 Tasca M4A1 Sherman
Three Rivers Regiment, Italy

This is the Tasca Sherman, cast hull version, as used by the Canadian Army Three Rivers Regt in Italy. The soldiers are from the Dragon Commonwealth Infantry set, Italy 1943-44, using Peddinghaus decals for the uniform patches of the Hastings and Prince Edward Regiment.
Ground work consists of rocks made from Hydrocal using Woodland Scenics rubber moulds. The rest of the ground work is a mixture of Polyfilla and my old favourite, coffee grounds. Trees and shrubs are real twigs and woody weeds and crumbles of foam "leaf foliage". I have since found a far superior tree leaf system, also from Woodland Scenics, called "fine leaf foliage". It looks much more realistic and is easier to use than the foam. I painted the scenery with washes, dry brushing and a final dusting with finely ground pastel to get that really dry, hot, dusty look. Sitting on my shelf for the next few years will certainly insure the dustiness of the scene.

The Sherman model was built pretty well out of the box, the only additions being the canvas mantlet cover, made from tissue soaked in diluted white glue and various bits of plastic, gauze and tissue stowage. The base coat on the Sherman was Olive Drab followed by many mist coats of successively lightened Olive Drab aimed directly top down. I used Desert Yellow to lighten. That was followed up with a coat of Future to prepare for further lightening via washes of artist oils. The tank commander is plastic and the driver a generic plastic torso with Ultrast head.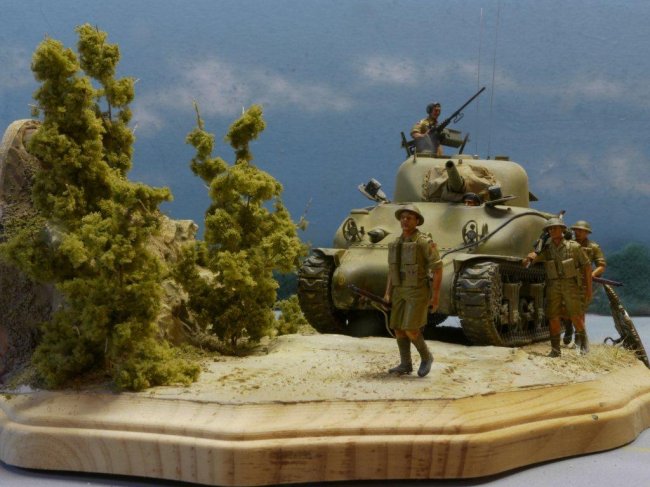 Still working at learning armour modeling skills. Hope you enjoy the attempt.
Mike Scullion