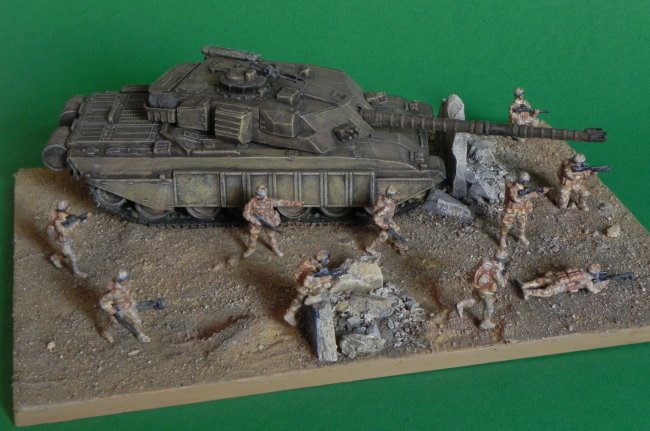 Mars small scale AFV kits are some of the cheapest available here in China. They're not so common but I found some in my little local model shop in Nanjing. A quick look inside one box persuaded me that they might be a bargain.
Like many of the more economical Chinese plastic kits, what's in the box doesn't necessarily relate too closely to the illustration on top of the box. Here, the boxtop showed a Challenger II in full desert garb while inside was a fairly basic mark I. Still, what can you say for two quid?
Detail is mostly molded-on but otherwise pretty good. Tracks are soft vinyl and not so good. However, several of the range I found suffered from a big construction problem: their lower hulls are too narrow for the upper hulls. To solve this I sawed the lower hull in half and glued a filler strip between them. Another problem was with the front track guards which projected too far forward: more hacksaw work shortened these and got the kit looking at least half decent.
After painting in acrylic sand, washing in watercolour grey, and drybrushing white the model seemed to justify the earlier effort.

Then I turned to the Caesar Miniature figures. The Modern Brits are one of this company's latest products and really I can't recommend them enough. For softish plastic figures they are quite excellent: lots of sharp detail, convincing poses, and mold lines which are all but non-existant. Once again, I painted with acrylics, washed with watercolours, and drybrushed with watercolour white straight from the tube.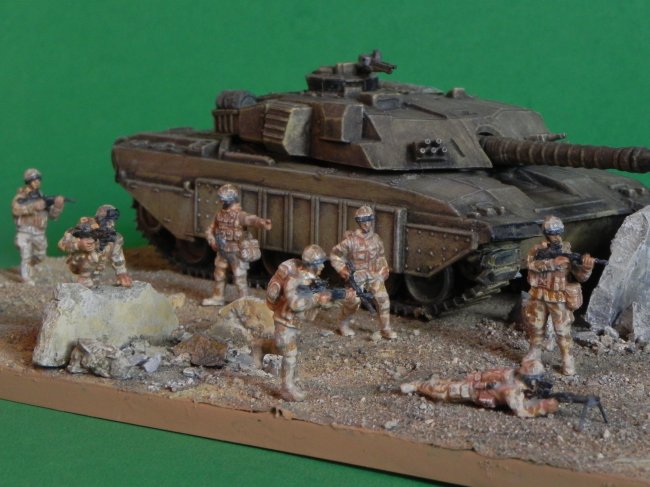 The base is a simple scrap plastic case from something or other, covered in white glued tissue paper, sprinkled with dirt, painted/washed in watercolours, and embellished slightly with plaster lumps of walls and debris.

So, great figures, poor vehicle - but finally quite a satisfying little diorama.
Greg Kerry